September 5, 2018
Composer Chance Thomas has been selected to create the original music score for WARHAMMER: Chaosbane, the latest installment in the Warhammer fantasy franchise. Working with European game audio powerhouse G4F and French developer Eko software, Thomas is hard at work on a dark, sprawling and foreboding score for the new title. Music will be performed by the Utah Film Orchestra and Choir. Sessions will be recorded at HUGE Studios Post Production in Salt Lake CIty, Utah.
---
August 16, 2018
Meet the music team behind the new FRIGHTMARES show, opening next month - guitarist Nick Petty, singer Amy Lynn Whitcomb, composer and music producer Chance Thomas, and bassist Stuart Maxfield.
---
CHANCE THOMAS SCORES DOTA 2 TI8
May 8, 2018
Valve published the new TI8 release for Defense of the Ancient (aka, DOTA 2) today featuring a brand new music score by composer Chance Thomas. The new score combines orchestral music with rock, synthesis, and hybrid percussion. The score was recorded at HUGE Studios in Salt Lake City. Featured performers included Jenny Jordan on vocals and Nick Petty on guitar.
---
MORDOR ORIGINAL SOUNDTRACK RELEASED
November 1, 2017
HUGEsound Records has released The Lord of the Ring Online: MORDOR original music soundtrack, composed and produced by Chance Thomas, through all major digital music outlets worldwide. "Mordor is a terrifying place," says Thomas. "This score is definitely darker and more martial than my previous LOTRO music. But it's still Tolkien. There is a sense of reaching for light beneath the oppressiveness, threads of beauty and strength, even in the midst of overwhelming shadow."
Free previews of each track on the album, plus a link to the new music video EVER ON, are available at the link below:
---
October 15, 2017
Chance Thomas has produced a new album for Jeannine Goeckeritz, principal flutist for the Mormon Tabernacle Choir. The album features well-known film score themes, classical gems and contemporary favorites. Several other arrangers contributed, including Sam Cardon, Ryan Murphy, Stephen Nelson and R Scott Rakozy.
Listen to excerpts of each song at Jeannine's website below:
---
TALES OF A TIME TRAVELER ORIGINAL SCORE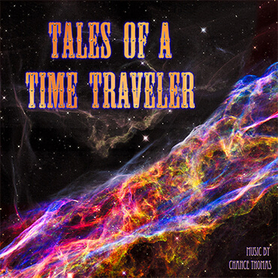 October 1, 2017
Composer Chance Thomas has scored a new 8k movie, Tales of a Time Traveler. The show will play in domed theaters and planetariums throughout the world. The score is an exciting tribute to the classic sci-fi score genre, with soaring melodies in the strings, epic brass, and rich poly tonalities. The music was performed by the Utah Film Orchestra, conducted by Nathan Hofheins with Aaron Ashton as concertmaster. Chance produced the score at HUGEsound Post Production, with Michael James Greene engineering and mixing.
Listen to examples of the score or purchase the mini-soundtrack at the link below:
---
LOTRO 10 DOUBLE ALBUM RELEASED
June 16, 2017
HUGEsound Records announces the release of THE LORD OF THE RINGS ONLINETM 10th Anniversary Commemorative Soundtrack through all major digital music outlets worldwide. The album pulls from the game's original score by Chance Thomas, an avid lifelong fan of The Lord of the Rings. This 26-song double album features Thomas' very best work over the past 10 years. Preview the music for free at the HUGEsound Records link below:
May 25, 2017
This morning, Standing Stone Games announced that composer Chance Thomas will be scoring the new MORDOR expansion for Lord of the Rings Online. As with Thomas' previous LOTRO scores, this score will be realized with live orchestra, choir and talented soloists.
The score will be recorded at the new HUGEsound Post Production studios, and mixed by veteran music engineer Michael James Greene.
---
February 2017
The composer and his tools in the scoring studio at the new HUGEsound Post Production.
Game credits make sweet desktop wallpaper too - Avatar, LOTRO, DOTA 2, and Dungeons & Dragons.
---
September 2016
Entertainment congolomerate R Legacy Entertainment purchases HUGEsound.
Chance Thomas launched HUGEsound in the late 1990's to provide high-end music and sound services to the video game industry.
Shown here, Chance Thomas, founder of HUGEsound, and Gaylen Rust, founder of R Legacy Entertainment and the new President of HUGEsound, sign the purchase agreement. Chance has been retained as VP of Music and Creative Development at the all new...
HUGEsound Post Production
---
NEWS FEATURES ON LOTRO & THE VOID
June 15, 2016
UK audio magazine SoundArchitect runs a feature on music and sound in The VOID:
VOID FEATURE
Designing Music Now website posts article about Bach, Mozart and... LOTRO:
MOZART & LOTRO
---
CHANCE THOMAS SCORES CHAMPIONS OF CANAAN
May 31, 2016
Teaming up again with Kingdom Games, composer Chance Thomas delivers a new original score for Champions of Canaan, the follow up sequel to FIVE: Guardians of David.
---
THE VOID AUDIO PRESENTATION AT FMX 2016
April 27, 2016
Germany's FMX Conference featured composer Chance Thomas in a special live audio session to discuss music, sound and audio implementation in The VOID, a new tactile virtual reality experience.
---
COMPOSING MUSIC FOR GAMES MAKES HUGE SPLASH
March 20, 2016
COMPOSING MUSIC FOR GAMES, Chance Thomas' new textbook on the art, technology and business of music scoring for video games, is officially out! Released two weeks ago on Amazon.com, the book sold out the first day. Pictured above, publisher CRC Press held a book signing event at GDC and sold out within the hour! Early response from readers is incredibly positive. See more:
TEXTBOOK PAGE
---
GAME GUILD HONORS CHANCE THOMAS
March 17, 2016
The Game Audio Network Guild honored composer Chance Thomas tonight with its Distinguished Service Award. The award was presented at the annual G. A. N. G. Awards show in San Francisco. Shown above, Thomas accepts the award from Guild President Brian Schmidt and Vice-President Alexander Brandon.
---
MUSIC FOR FAERIA UNVEILED
February 11, 2016
FAERIA is a fantasy video game set in a magical world of adventure. The music score features stunning solos performed by Nicole Pinnell on cello, Jeannine Goeckeritz on flute, and Daron Bradford on recorder and English Horn.

Developed by Abrakam Entertainment in Belgium.

Recorded at LA East and HUGEsound.
This music in this featured video walks you through the game world in miniature - from nebulous ambiance through an enchanted entrance, to a clear exposition of the main theme, then a call to battle, a mystic resolution and a triumphant thematic climax... finally returning the listener to the ambient mist from whence they came.
"We always wanted to make
FAERIA
a classic," says Martin Peirlot, lead designer on the game. "And since the moment we met Chance we've had inspiring talks on how to bring
FAERIA's
magical world to life, how to craft powerful emotions and give them to players at the perfect moment. The quality of Chance's approach and vision are impressive. As players we've always delighted in Chance's music. It's a privilege to have him give voice to our world."
---
January 8, 2016
Excited to finally announce this. The Void is a revolutionary tactile VR experience, with virtual worlds built over physical spaces. The illusion is extraordinary, unlike anything in entertainment today. Watch the video (link below) to get a first look at this astonishing technology. Chance Thomas is composing the original music with HUGEsound providing sound effects and dialog services.
---
January 4, 2016
DRIVEN IN DETROIT is a new nine-part documentary series chronicling the efforts of charitable organizations and volunteers in Detroit who are helping individuals trapped in generational poverty lift themselves to self-reliance. Chance Thomas is providing music for the series. Stay tuned for further announcements about where you can watch these incredible stories.
---
CHANCE THOMAS SCORES FIVE WITH ALEXANDER BRANDON
November 24, 2015
Chance Thomas and Alexander Brandon have teamed up to deliver the original music score for FIVE, a new video game set within the rich history of ancient Israel. Play as one of five warrior/guardians of King David. Grab the game from Steam at this link:
---
CHANCE THOMAS TO KEYNOTE GAMESOUNDCON
October 7, 2015
GameSoundCon has announced that Chance Thomas will give the keynote address at this year's conference.
The keynote is entitled, "SPOILS OF WAR - 10 Gems of Wisdom from 20 Years in the Trenches", and will feature a number of inspiring, funny and incredulous stories gathered from Chance's professional adventures in the video game industry.
The conference will be held November 3-4 in Los Angeles. Ge all the details here:
---
COMPOSING MUSIC FOR GAMES #1 NEW RELEASE ON AMAZON
Bookseller Amazon.com has announced that COMPOSING MUSIC FOR GAMES is the #1 New Release in its category. The new university textbook, authored by composer Chance Thomas, is authoritative and comprehensive, a milestone guidebook for music students and aspiring video game composers.
Click

HERE

to learn more or pre-order a copy today.
THEME FOR ROHAN PASSES ONE MILLION MILESTONE
THEME FOR ROHAN, composed by Chance Thomas for the Riders of Rohan expansion from Lord of the Rings Online, and recorded by violinist Taylor Davis, has surpassed 1 million views on
YouTube
.

---
CYTUS EXPANSION ROCKS WITH NEW MUSIC
Rayark has released the expansion pack for their massive hit rhythm game, CYTUS, featuring new music composed by Chance Thomas. Chance was selected for the project by music producer Shota Nakama, who produced the music with the Boston-based VGO orchestra. With the release announcement, Nakama had high praise for the music,
"Thank you Chance Thomas... Your songs totally rocked the world!"
And here are some early comments rolling in from the press:
"Fantastic rhythm game with a truly ingenious plot."
"One of the five best games for iPhone and iPad - July 2015."
CYTUS is now available on iTunes and the Apple App Store.
Occasionally
, good things come in the mail. Like this awesome Emmy certificate! Thrilled to be part of this amazing project. Thanks again to Matt Davis and Richard Bazley.
---
We're pleased to announce SORCERY AND INNOCENCE, an Art and Music Gallery Installation Exhibit, featuring the fantasy music of Chance Thomas and the fantasy art of his sister NeNe Thomas. Please
Click
HERE
for a preview of the first song, "The Unraveling".
---
Purdue, Cincinnati Conservatory of Music and Indiana University each hosted campus events with composer Chance Thomas this week. IU posted a nice review of their event in the campus

newspaper

. The subject matter seems to be striking a resonant chord:
"It was absolutely fantastic having you here… I wanted to let you know what a hit you were!" - Jeffrey Hass, Director, Center for Electronic and Computer Music, Indiana University
"
Chance Thomas' presentation was a delight for both our students and faculty. His talk fueled classroom discussions for days after his visit. I would highly recommend bringing him to present.
" - Jordan Munson, Purdue School of Engineering and Technology
---
UNIVERSITY OF TEXAS HOSTS CHANCE THOMAS EVENTS
The University of Texas music composition department hosted two events today with composer Chance Thomas. The first was an auditorium lecture presentation on building a career in video game composition. The second was a Master class focused on music scoring techniques for games. Here is some reaction from those in attendance:
"It was easily the best talk I've heard at UT." - Jack Roberts, composition student
"This was the most engaged I have ever been with a guest composer." - Casey Martin, composition student
"A really great few hours and it helped push me to explore different areas in my music!" - Jocelyn Chambers, composition student
---
DOTA 2 MUSIC SNAGS 2 GANG AWARDS NOMINATIONS
Today the Game Audio Network Guild announced it's formal Award Nominees for 2015. We are thrilled to report that the Guild has selected two songs from Chance Thomas' DOTA 2 music score for nomination:
BEST ORIGINAL SONG: CHORAL -- "Startup", from DOTA 2 (2014 Compendium)
BEST ORIGINAL INSTRUMENTAL -- "Countdown", from DOTA 2 (2014 Compendium)
---
NEW GAME SCORE ANNOUNCEMENT
We are excited to announce a brand new music scoring project. Chance Thomas and celebrated composer Alexander Brandon are collaborating on the score for an epic new game set in the pivotal past of ancient Israel. More details forthcoming in 2015.
---
LOST TREASURE HUNT AIRS TO GREAT REVIEWS
The brand new animated TV show LOST TREASURE HUNT has begun airing in selected markets around the country. Initial feedback has been exceptional. To read a preview story about the show on Animation World Network, click

HERE

.
---
CHANCE THOMAS GUEST CONDUCTS UTAH SYMPHONY FOR VGL
The Utah Symphony hosted Video Games Live with composer Chance Thomas guest conducting his original composition, THEME FOR ROHAN. Standing ovations and several curtain calls evidenced the music was well received by the enthusiastic crowd.
---
NEW DOTA 2 SCORE RELEASED
The new DOTA 2 music score was released today. Composed by Chance Thomas and recorded with the Utah Film Orchestra and Salt Lake Choral Artists. More than 4 million players purchased the International music pack included with the Compendium. Unsolicited artwork above graciously provided by DOTA 2 player and talented artist Javier Burgos Gasco.
---
DOTA 2 NEW MUSIC SCORE GETS MIXED
Mixing desk and some of the outboard gear used in the new DOTA 2 music score.
---
DOTA 2 VIDEO GAME SCORE RECORDING SESSION PICS
A few photos from the recent DOTA 2 recording sessions for the new music score.
---
INTENSIVE MUSIC SCORING COURSE HUGE SUCCESS
Chance Thomas surrounded by stellar students from an intensive course on music scoring for video games based on Thomas' forthcoming University textbook, "Composing Music for Games: The Art, Technology and Business of Video Game Scoring". The course was held at Oklahoma City University in the Bass School of Music with students from several mid-western states
---
CHANCE THOMAS SCORES LOST TREASURE HUNT
Hollywood animation veterans Richard Bazley (Hercules, Iron Giant) and Matt Davis (Hotel Transylvania, Cloudy with a Chance of Meatballs) have invited Chance Thomas to score the pilot for their newest animated adventure, Lost Treasure Hunt. Real life treasures of the past - edge of your seat adventures -

bringing history to a new generation.

The pilot program, based on the voyages of Christopher Columbus, is targeted for Columbus Day release October 13, 2014.
---
CHANCE UNDERSCORES NEW IMAGE SPOT FOR CODEX DIGITAL CINEMATOGRAPHY
Film director Sheena Duggal has completed work with composer Chance Thomas on a stunningly beautiful and artistic image piece for Codex Digital Cinematography. Duggal, most widely known for her VXF magic on films like The Hunger Games, Iron Man 3 and Thor: The Dark World, has woven a mesmerizing tapestry of images. Chance's music, all digitally rendered, underscores with a blend of ambient and classical.
---
ORIGINAL SCORE FOR
"MASTERPIECE" SHORT FILM
Chance scores a new short film, MASTERPIECE, for Kaleidoscope Pictures. This beautiful film takes the viewer on an allegorical journey through several paintings which come to life before the painter's eyes. "If life were a painting, and you were the artist, what would you paint? What colors would you use?" Features virtuoso performances by cellist Nicole Pinnell, violinist Meredith Campbell and Daron Bradford on clarinet.
---
CHANCE SCORES INSPIRING DOCUMENTARY
This documentary follows the story of Stone Kyambadde, a Ugandan soccer player who suffers a devastating injury. With his athletic career finished, he decides to gather troubled young men off the street and coach them in soccer and life skills. This incredibly motivating movie is produced by Franklin Covey with new original music by Chance Thomas.
---
MAGAZINE HIGLIGHTS MIGHT & MAGIC SCORING EXPERIENCE
Attendees at this year's Sundance Film Fesitval were treated to a six page story detailing the scoring and recording process for MIght & Magic: Forgotten Wars. The article was featured in FilmUtah Magazine with thousands of copies distributed at the conference.
Read the whole article in JPG or PDF format HERE.
---
WARNER/CHAPPELL CONTRACTS NEW MOVIE TRAILER SCORES
Warner/Chappell Music has contracted several new movie trailer scores from composer Chance Thomas. The new scores will be published in WC's Adventure IV Premier and Awards/Crescendo releases.
---
BRIGHAM YOUNG UNIVERSITY HOSTS CHANCE THOMAS EVENT
Chance Thomas returned to BYU for a guest lecture and Master Class on Thursday January 9, 2014. Topics included successful principles of music composition, new techniques in video game scoring, and tips for navigating a successful career as a professional composer.
Dr. Kory Katseanes, Director of BYU's School of Music said, "I loved your lecture...Very engaging and informative... just what we hope for in this series and even more!"
For more information on Chance's Master classes, seminars and guest lecturing, please visit our SPEAKING page.
THE REASON BEHIND CHRISTMAS
Wonderful short film for Christmas. Features a grumpy old stage hand and a school Christmas play that takes an unexpected turn. Music composed and produced by Chance Thomas.
FULL SAIL UNIVERSITY HOSTS CHANCE THOMAS EVENT
Full Sail University hosted composer Chance Thomas today for a live studio and online broadcast event. Chance spoke to the students, faculty and extended audience about opportunities in the video game industry and shared successful business, artistic and technical principles. One enthusiastic attendee wrote, "Wow!! Your entire presentation resonated incredibly with where I'm at in my career. It truly was a "Socrates moment"!!!"
For more information on Chance's Master classes, seminars and guest lecturing, please visit our SPEAKING page.
MIGHT & MAGIC FORGOTTEN WARS RELEASED
Ubisoft Entertainment releases MIGHT & MAGIC: Forgotten Wars for their popular Duel of Champions platform today. Composer Chance Thomas created the original music for the new title. The score features a distinctive Middle-eastern flavor, including Bouzouki, Tandbur, Oud, and some spicy Middle-eastern fiddle playing. The score was recorded at LA East Recording Studios with the Utah Film Orchestra and Salt Lake Choral Artists. Engineered by Tanner Danielson, mixed by Mike Roskelley. Special thanks to Ubisoft Quebec, especially Aurelien Baguerre and Stephane Jankowski.

CHANCE THOMAS JOINS WILLIAM SHATNER AND OTHERS AS SPEAKER AT SL COMIC CON
Chance Thomas has been invited to join a star-studded group of guest speakers for the SL Comic Con. Chance will speak on a panel discussing the role and aesthetics of music, sound and art for video games. He is joined on the panel by Video Games Live founder Tommy Tallarico and acclaimed visual artist Mark Jarman.

NEW SCORE FOR STORIED MIGHT & MAGIC FRANCHISE
Delivered! The new live orchestral and choral score from composer Chance Thomas for MIGHT & MAGIC: DUEL OF CHAMPIONS. Recorded with the Utah Film Orchestra and Salt Lake Choral Artists. The score was recorded at LA East by engineer Tanner Danielson. Mixing and mastering at The Pod by Mike Roskelley. Aurelien Baguerre produced the score for Ubisoft Entertainment.

YOUTUBE HOSTS NEW HIGHLIGHT REEL
A brand new highlight reel is live on YouTube featuring some of Chance's best work. Watch (and hear) video excerpts from animated films, video games, live action films and documentaries in a single montage. Includes clips from The ChubbChubbs!, James Cameron's Avatar, Peter Jackson's King Kong, Lord of the Rings Online and many other terrific titles. Watch it now:

HERE
ZONA FRANCA DE CADIZ VIDEO GETS AWARD WINNING MUSIC SCORE
A joint venture between Spanish communications firms iPoint Communicacion and Los Creativos de Hawkins resulted in selecting award-winning music from composer Chance Thomas to underscore a new film celebrating the history and achievements of Zona Franca de Cadiz. Read an article discussing the project and watch the video from a website of the Spanish news publication, HoraSur:

HERE
CHANCE THOMAS SCORES "CLICK IT" CAMPAIGN FOR LHM AUTO GROUP
LHM AUTO, one of the Larry H. Miller group of companies (NBA's Utah Jazz being another one) has contracted composer Chance Thomas to create music for their new campaign, Click It! Get It! Drive It! The music track builds on a rhythmic bed of mouse clicks, key jingles and car door closes, with contemporary beats and sounds overlaid. You can listen to the track by selecting the ADS category of our online music player:

HERE
AUDIO GUILD HONORS CHANCE THOMAS
Composer Chance Thomas was honored tonight by the Game Audio Network Guild with its annual RECOGNITION AWARD. This award commemorates Chance's leadership in bringing music from video games into the Grammy Awards. Grammy nominated composers Austin Wintory and Christopher Tin (seen in the background) presented the award at the gala event in San Francisco.
ROHAN SNAGS GANG AWARD NOMINATION
The Game Audio Network Guild has announced that "The Eored" - an exciting choir and orchestra mounted combat track from the Riders of Rohan original score - is an official GANG Awards nominee in the category Best Original Vocal (Choral). Watch the new

YouTube Video

of the song complete with screen shots, sheet music and session photos!
RIDERS OF ROHAN WINS TOP SCORE HONORS
Joystiq's MMO editor awarded the Riders of Rohan score

Best New MMO Music

of 2012. Then, in a
new article
published yesterday, he also listed the LOTRO score in his top 5 MMO soundtracks of all time. Thanks to the terrific orchestra, choir, soloists, engineers, studios, the HUGEsound music team, and everyone at Turbine and WB Interactive for making this possible.
OCU HOSTS DAY WITH CHANCE THOMAS
Oklahoma City University hosted composer Chance Thomas for a day of special events with their composition and performance major students. Chance put on a Master Class, a mock recording session and concert performance.
THEME FOR ROHAN - NEW MUSIC VIDEO
YouTube sensation Taylor Davis has released her new music video performing the THEME FOR ROHAN from the Riders of Rohan original soundtrack by Chance Thomas. Watch the video
HERE
.
---
DUNGEONS AND DRAGONS SCORE HIGHLIGHTS
Hiding in the shadows of Chance's higher profile ROHAN soundtrack is the excellent score for DUNGEONS & DRAGONS ONLINE. Listen to a montage of highlights from this score on YouTube.
RIDERS OF ROHAN SOUNDTRACK AVAILABLE NOW
This has been a long time coming. Since 1998, composer Chance Thomas has been creating original music based on the fantasy writings of JRR Tolkien. Yet not until today has a single note of this music been commercially available!
Now, thanks to a four-way deal between Warner Brothers Interactive, Water Tower Records, Turbine Entertainment and iTunes, the first collection is finally being released.
RIDERS OF ROHAN, Chance's original score for the new Lord of the Rings Online expansion, is available for immediate preview and purchase on:
NEW SCORE FOR MIGHT & MAGIC
Chance Thomas has completed a new original music score for HEROES OF MIGHT & MAGIC: DUEL OF CHAMPIONS. The game was released this week into open Beta by developer Ubisoft Quebec. Players can experience the well known factions of the Might & Magic universe: Heaven, Inferno, Necropolis and Stronghold.
MISTWOOD ROLLS UP HUGE NUMBERS
Disney's GHOSTS OF MISTWOOD, featuring original music by composer Chance Thomas, attracted 1.5 million players last month, placing it among the Top-10 fastest growing games on Facebook worldwide. Congrats to producer Jenny Kropko and the entire MISTWOOD team!
BEHIND THE SCENES VIDEO - The Sound and Look of Rohan
How does one approach the task of creating music to underscore the writings of JRR Tolkien and bring that world to life? What does a recording session to capture that music look like? What is the role of the music score in an interactive game? Composer Chance Thomas speaks about the process in this new "making of" video posted earlier today:

HERE

.
---

DISNEY'S GHOSTS OF MISTWOOD ANNOUNCED

Disney releases GHOSTS OF MISTWOOD with original music by Chance Thomas and sound by HUGEsound Network sound designer Kole Hicks. Check it out, exclusively on Facebook.

---

December 13, 2011

We are pleased to announce the worldwide debut of RISE UP! - the music video. This collaboration between director Masami Ikeda (Tokyo), composer Chance Thomas (Salt Lake City) and editing artist John Pratt (Honolulu) is dedicated to the resilient people of Tohoku, Japan and others impacted by the record shattering earthquake and tsunami of 2011.

Watch the RISE UP! music video now:

The Rise Up! music video, rich in symbolism, shows this beautiful and vibrant part of the world both BEFORE and AFTER the tsunami. It shows everyday people coming together and rolling up their sleeves to help. You will see warehouses of relief supplies pouring in, heavy equipment dispatched to aid, volunteers from both Japan and the West working together in rising up to rebuild. Itís an inspiring view of the human race.

But as one famous American once quipped, ďIt ainít over till itís over.Ē Many millions of dollars and thousands of volunteers are still needed.

While awareness of the tsunami has receded into background noise for most of the world, thousands remain displaced from their homes still today. The scale of the devastation is difficult to fathom. Infrastructure is still smashed, entire neighborhoods remain in rubble and rebuilding will take years. Even basic clean-up is still ongoing.

One way to help is through the PLAY FOR JAPAN benefit album, created to raise awareness and funds for the relief effort. This album includes Rise Up! and other great songs by top Japanese and Western composers working in videogames and film. 100% of all proceeds from the purchase of this music goes directly to the Red Cross of Japan, earmarked for tsunami relief and reconstruction. You can preview and purchase the album through the STORE link on this website.

The ideal that one person can make a difference struggles for life in a world dominated by global corporations and powerful special interests. But in our little corner of the artistic community, unpretentious individuals like you and I can still bypass greed siphons and pour our contribution directly into rebuilding neighborhoods, cleaning up toxic debris and restoring living conditions for our friends in Japan. This rousing benefit album, PLAY FOR JAPAN, organized by Japanese composer Akira Yamaoka, is an untainted way to make a positive impact on humanity and get some great music in return.